Jongwënzer
The "Jongwënzer" (young winemakers) of Domaines Vinsmoselle were found more than 25 years ago. Back then as well as today, they aim for constant progress in viticulture, enology and commercialization and also participate actively in projects of Domaines Vinsmoselle.

With the support of master winemakers, they produced a selection of "Grand Premier Cru" wines and even market them under their own name.

As they are young and innovative, even their label was created by themselves. Basically, it is made of a minimalistic design with a high recognition feature: every number on the labels stands simply for the barrel which they had selected for the wine.

Today, the brand consists of an Auxerrois, a Pinot blanc, a Pinot gris, a Riesling and last but not least a Crémant. All of them are delicious limited editions waiting for being discovered by you!

Goldmedal
Jongwënzer Auxerrois
+
This Auxerrois presents aromas of ripe grapes, vanilla and a hint of almonds...

Jongwënzer Pinot Blanc
+
With its light perfume of mirabelle and plums such as hints of peach and white flowers, this wine has a

Jongwënzer Riesling
+
The Riesling Jongwënzer fills the nose with classic Riesling aromas like orange and flint, but also spice

Jongwënzer Pinot Gris
+
A spicy, noble, slightly smoky nose with hints of dried fruits links directly in the beginning to this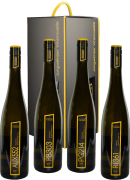 Coffret-Cadeau Jongwënzer
+
1 x 75 cl Auxerrois Jongwënzer Grand Premier Cru 1 x 75 cl Pinot Blanc Jongwënzer Grand Premier Cru 1 x 75 cl Pinot Gris Jongwënzer...